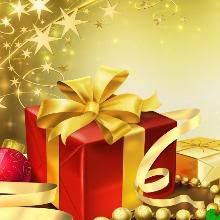 Sometimes when you think of presents you picture a beautifully wrapped gift with all the trimmings ... not always so,

the fondest and most cherised memories are those wrapped in love
...
today my friend (the one who makes the wonderful jewelry and gave me my treasured bookmark) and I were working, as we normally do, then she came and asked what was the best Christmas present ever? She described walking into her grandmother's house and there stood three red barbie doll suitcases ... one for her and each of her two sisters; she was probably about 9 years old at the time. Listening to her describe her delight when she saw them was priceless. What had made her think of it was she had been thinking of how to wrap her grandchildren's presents thinking that they might enjoy ripping off wrapping paper rather then pulling them from a bag with tissue paper. It was with this thought that she remembered those red suitcases and the fact that they had been unwrapped had made no difference, in fact, I think from listening to her speak of having "walked in on them" had an amazing element of surprise ... I guess so, for forty something years later the impact remains. This gift is closely held to her heart, a cherised memory. But the gift is more then a little red suitcase, its a grandmother's love.
I related to her childhood memory and thought of the anticipation and excitement of which my brother and I would approach Christmas morning. Carefully displayed
around the tree was the bounty of Santa, in all its glory, every item standing
unwrapped
. When I think of Christmases at those times, I was probably around 8 or 9 years old, I remember a Christmas afternoon ...
Million Dollar Movie
was on, the theme song from Gone With The Wind ... even now I hear it and I remember being sprawled on the floor with a coloring book and the big box of crayola crayons. I loved my gifts, each and every one, but coloring I adored.

I would color the pages in succession, never skipping around, until the book was completed. On some pages the entire picture would be outlined in black, then carefully select colors to use within the black lines. Sometimes the different items in the picture would be outlined in a darker shade of the color I used in that space. Sometimes I would color in circular motion, sometimes back and forth. For me coloring was an art. I loved it! It was my greatest memory ... for a moment and then I remembered the coat.
I think I was 19 or 20. I had stopped (and I cannot remember why, I think maybe my mother had asked me to pick up something there) at the showroom of a coat factory in town a few days before Christmas. Maxi coats were in fashion and becoming more and more popular by the day. There in this store was a most beautiful coat. It was a wool, orangey red with a hood, and had a tapestry strip that ran up the front, around the hood and down. It was absolutely wonderful! You should have seen the size of it ... all I'll say is that its "several" sizes smaller then what I wear now, and it fit like it was made just for me.
Later, while we were making preparations for Christmas Eve dinner the following night, I spoke of this coat and then thought no more of it. Christmas Eve was always very special, although we didn't have family any where nearby it was always a grand dinner, set up in the dining room, the tree was also in the dining room in front of double glass doors making it very pretty during dinner. The four of us, my parents, brother and I. This would have been the last time I had ever celebrated Christmas with my brother, but that's for another time.
After dinner, before or sometimes during dessert, we would open our gifts. A warm, cozy Christmas Eve exchanging presents. After everything was done my mother asked me to go to her bedroom, for what now I do not remember, but when I walked into the room, there hanging on the closet door was
the coat
.
Unwrapped
, just hanging on the closet door! I think I almost fell over. How my mother ever got to get this coat, I don't know. And when I think of this now, how she did that for me. And so, what was my best present ... the coat ... no... its discovering a mother's love and five seasons later its so very clear. Thank you mom.
Love cannot be boxed, wrapped in paper or adorned with bows, glitz and glitter. It stands unashamedly unwrapped, uncovered ... bare and bold. To receive it, there is no greater gift. It is the ultimate.
-glor